Welcome to our homepage!
Thanks to all of you who attended the Houlton Fair this year! Be sure to join us next year!
About Houlton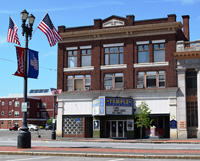 Houlton is a small town in the Pine Tree State, right on the US-Canada border at the end of Interstate 95. County seat for Aroostook County, Houlton is known as the 'Shire Town' and has a small community of a little over 6,000 people. The town is steeped in history: once a Maliseet indigenous settlement, it was founded as a village in 1807 and became one of the wealthiest US communities by the end of the century, owing to its potato farming and logging. Serving as a military base and internment camp during the WWII, the Houlton Army Air Base provided a strategic position for the US army. Even then, farming was at the heart of the Shire. Local farmers would tow planes over the border into Canada with their tractors, since a direct flyover would compromise US' neutrality on British Commonwealth territory.
The town center still holds some of the atmosphere of the community's golden era at the turn of the previous century, with its authentic, well-preserved Victorian mansions still lined up as a testimony to its glorious past. The Meduxnekeag River, a tributary of the Saint John River, flows through Houlton and since the river area is considered ancestral land of the local indigenous tribes, the Houlton Band of Maliseet Indians with a population of 800 is also headquartered here.
Visitors can enjoy great dining and hospitality in Houlton, while exploring 'The Great Outdoors' of Northern Maine. Houlton offers easy access to major state parks and trails in the area, and there are year-round outdoor activities to engage in on an idyllic getaway. Local recreational and sporting activities include hiking, golfing, canoeing, snowmobiling, fishing, boating, and camping. The Aroostook State Park and Echo Lake are less than an hour drive to the north. Baxter State Park with Maine's highest peak, Mount Katahdin, and the northern end of the famous 14-state Appalachian Trail, are all within easy reach, just to the southwest of Houlton.
About MAAF
The Maine Association of Agricultural Fairs (MAAF) is an organization set up and managed by a team of volunteers from all member fairs in the state of Maine. Maine's agricultural fairs go back at least as early as the beginning of the 19th century and continue to attract local communities with some of the best events in New England. The Association is responsible for 26 licensed and one non-licensed agricultural fairs statewide and holds annual meetings in the beginning of the year to map out the forthcoming fair season. The core management is made up of a slate of officers and a board of directors. The 2018 Annual Meeting will be held in Portland, Maine, 25-27 January.
Fair season continues from July through early October. The mission of the fair association is not only to promote cooperation between local farmers and businesses, but to also bring educational entertainment to Maine's youth and families that improves and evolves in offering from year to year. The association supports small and large fairs alike, with common activities including livestock shows, exhibit halls, local talent competitions, demonstrations of farming equipment and vehicles, animal pull events, local vendors and old-fashioned fair rides. There are dedicated events and fair space for all age groups, from toddlers to seniors.
MAAF has achieved numerous organizational accomplishments throughout the years to boast with, from maintaining the oldest-running fair in the States to gathering a record amount of unique agricultural exhibits in one place. Skowhegan Fair is the oldest US fair nationwide, established all the way back in 1818 and soon to celebrate a 200-year anniversary. Fryeburg Fair is the largest Maine agricultural fair attracting more than 300,000 visitors a year. 2006 was a record year in the history of Maine's agricultural fairs, with 850,000 paid attendees, 20,000 livestock heads, and 21,000 agricultural exhibits.
Houlton Fair Forms & Rules
2011 July 4th Parade - Entry Form - Download
2011 Open Horse Show - Download
2011 Houlton Farms Dairy Baking Contest - Download
Review all by clicking here
Houlton Agricultural Fair 2017
Houlton Agricultural Fair 2017 took place in Houlton's Community Park and as usual, over the four-day weekend around 4th July celebrations. It is one of the smaller events under MAAF's management that continues to grow and attract thousands of visitors annually. Some variation of the event has been around since 1898, but the fair received an official state fair license in 1986. Today, the body in charge is composed of 15 Board Directors and a 70+ team, all local volunteers.
Houlton Agricultural Fair is family-oriented and puts educational entertainment aimed at kids and youth at its core. Every year, the fair presents a fantastic midway by Smokey's Greater Shows, exhibition halls, livestock, crafts, and fun events for all ages. There are more than 25 games for children spread over the four days of the festival and blackjack games for the adults - check them out at bestblackjackonlinecasinos.com. Whether it is a chocolate chip cookie contest, a kids bike giveaway, or a pig scramble, the fun fair activities can keep even the seniors young at heart.
Every year, the fair opens with livestock/vehicle shows and parades, and closes with raffles, giveaways and concerts. The highlight of the event are demolition derbies, antique tractor pulls, mud runs, cash cube, and various contests involving agricultural produce. In recent years, the fair has introduced more sports events in its program, including softball, motorcycling and kickboxing, as well as more unconventional contests, such as lawn mower races and toilet seat tossing. The egg toss is now a program classic.
Visitors can enjoy open shows with horses, sheep, goats, beef cattle, dogs, rabbits, alpacas and more. There are also demonstrations and exhibitions for all classic car and tough truck enthusiasts. All four days include a rich program of corporate sponsorship themed events, and the usual lineup of craftsmen, cooks and professional entertainers employed for the occasion. Each night ends on a high note with fireworks, karaoke and concerts.
Houlton Agricultural Fair is a highlight for the local community and keeps growing from year to year. Partners include Maine farmers, local businesses and international brands. The 2018 edition is scheduled to take place July 4th – July 8th 2018.