Guide To Types Of Horse Racing
When it comes to horse racing, there's no such thing as a standard race. There are several kinds of horse racing, and knowing about the different options for betting will stand you in good stead the next time you place a wager. Here is a quick guide to some of the main types.
Harness Racing
In this type of racing, horses pull their driver along in a light 2 wheeled cart which is dragged along behind them. This is an especially popular form of the spot in some parts of the world.
Flat Racing
As you can imagine from its name, flat racing involves the horses competing on a flat surface without the need to jump any obstacles. Although this form of racing doesn't come with the excitement and uncertainty that hurdles bring to the sport, flat racing is considered by many people to be a pure form of racing, testing the jockey's judgement and skill and the horse's stamina and speed to the max.
Flat Races can be a variety of lengths between 5 furlongs and 2 miles. A short race is called a 'sprint' whereas a longer one is called a 'stayer'. Anything in the middle is known as a 'middle distancce' race. Some of the most prestigious horse races are flat races and they can either be run on turf or synthetic surfaces (which are called all-weather surfaces). The five Classic races in the British horse racing calendar are all flat races including the well known Royal Ascot wjich is the year's primary racing festival.
Hurdles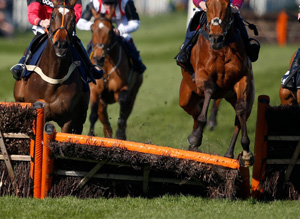 Hurdles represent one of the three forms of National Hunt racing. This form of race involves horses jumping over hurdles which have been specially constructed to avoid harm to the horse should they accidentally miss the jump and hit the barrier. The maximum height of a hurdle is 3 feet 6 inches. More about horseback games.
Steeplechases
The steeplechase is another form of National Hunt race. Similar to hurdles, the steeplechase involves horses negotiating fences as well as other obstacles including water jumps and open ditches. In a steeplechase race, the obstacles are generally less forgiving than those used in a hurdles race, and horses have to jump higher and more cleaning to avoid injury. The Grand National is perhaps the most famous steeplechase race of them all.
NH Flat Races
Although the majority of National Hunt races involve jumping of some form, the NG Flat race is run on a flat surface or 'bumpers'. These races are designed for those horses which are novices to any form of racing, giving them a little experience in the competition before attempting to jump hurdles.
All three forms of National Hunt races usually take place between Autumn and Spring as the ground will be softer, thus minimising the chances of injury to jockeys and horses should they take a fall. Betting is available from major sportsbooks on all of these types of horse racing, and bettors can choose to place wagers on horse racing events around the world for even greater excitement and variety.